Coffee bags with valves are highly popular for its re-usability and air-tightness. Coffee requires a packaging that is neat and flexible in order to look presentable. Tin cans and cartons used to be the only way that coffee was packaged in the past. But now, the Stand up Coffee Bag with Valve is a better choice.
Perfect Kraft and Foil, Aluminum Material Choice
Free delivery samples for your reference
Fastest quote for custom printed pouch within 24 hours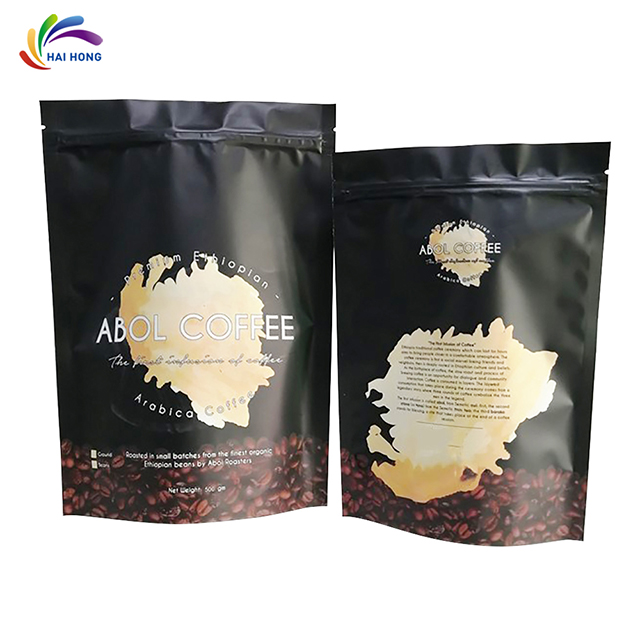 Qingdao Haihong Packing ltd. is a well-known manufacturer and supplier of various packing bags in a wide range of Kraft paper bags, aluminum foil packaging bags, OPP/CPP composite zipper bags, nylon bags, high temperature retort pouch, boiled bags, paper plastic bags and etc., available in different thicknesses, designs, sizes, shapes and colors. With over 20 year's experience in the packaging industry, Qingdao Haihong Packing has the professional expertise to produce qualitative packing bags using the highest grade of raw materials and the latest technology.
We offer stock coffee bags in various shapes, including:
Stand Up Zipper Bag;
Kraft Paper Pouches;
Side gusset Bag;
Side sealing Bag;
Aluminum foil packaging bags
....
We can custom any types of coffee bags based on your detailed requirement. Let Haihong design and manufacture your coffee bags, skyrocket your coffee brand!
Our stock coffee bags with valves are air-tight to keep the beans fresh and keep your customers satisfactory.
Contact us and get the great price for your business!